Congratulations to Cheryl's Diner for being the Business Leader of the Week! Cheryl's Diner is a locally owned restaurant owned by Cheryl Denny. The diner was established nearly 12 years ago on November 7, 2006 when her sister had come up with the idea to buy the diner. After about a year, Cheryl took over as full-time owner and operator. Cheryl's offers an energy that is unbeatable to chain-owned diners. Walking in, it is a small space but don't let that fool you, the portions are enough to feed two (even if you're just getting eggs and toast)!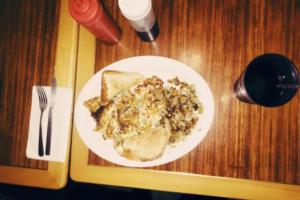 When Cheryl was 18, she waitressed to pay for school and helped her father cook at a local diner on the weekends, this is where she first learned the tricks of the trade. However, it was at Nin's that she perfected her craft. Nin taught her everything she knows and instilled in her the importance of making everything from scratch. All of Cheryl's dishes are homemade and she wouldn't have it any other way. When asked what the secret is to having a successful diner, Cheryl emphasized the importance of customer service, customer satisfaction, and community. Everyone who walks in the door is treated as family and if you have a concern about something, Cheryl will personally take care of it. Every person who works there is someone who has been in the restaurant business for 6+ years, which helps the diner run effectively and efficiently. Cheryl said "When you're in this type of business, you're a lifer." This proves her loyalty to her customers and the community. Cheryl's is here to stay, and in the future she hopes to eventually find the perfect location to move and grow her business. If you're looking for a bite to eat and a laugh, visit her and all the wonderful staff on 219 State Highway 11B Potsdam, New York.
P.S. Matty says "Get the fish fry!"
Show some love, like this post on facebook.